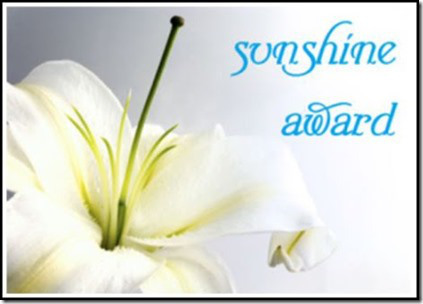 Debbie at Deb Runs nominated Write the Happy Ending for the Sunshine Award. This award is a way for bloggers to recognize other bloggers who are positive and inspire their readers in a creative way. Thanks so much for the nod, Debbie!
Here's how it works: bloggers who are nominated and choose to participate should:
Include the Sunshine Award logo on their blog or in a post.
Link to the blog of the person who nominated them.
Answer 10 questions.
Nominate 10 others to receive the award, and link to the nominees in the post. Let them know they have been nominated.
Debbie asked me to answer the following questions:
If money were no object, what one item would you buy tomorrow?     Does a vacation count as an item? If so, I'd buy a trip to New Zealand. I've hiked to some of the most gorgeous natural wonders in the United States, but my dream vacation is a hiking trip on the South Island of New Zealand with a pit stop at one of the South Pacific Islands (i.e. Fiji) on the way home.
What chore do you enjoy doing the least and why?     I HATE ironing. Hate it. My grandfather learned how to iron clothes when he served in the Marines, and I always marveled at his talent for my least favorite chore. I'm cheap about a lot of things, but I'm not above taking my ironing basket to the dry cleaner's and paying someone else to do it for me.
Most of the clothes that can be found in your closet are from what three stores?    I have to cheat on this one – I'm picking four. J. Crew for work, REI and the Gap for weekends and Run for Your Life (a Charlotte running store) for running shoes and gear.
If you could use only one beauty product for the rest of your life, what would you choose?     I had white-blonde hair as a kid. The hair on my head turned a golden blonde as I got older, but my eyelashes never changed. That means that if I skip mascara, I look like I don't have any eyelashes. So I'd have to say mascara! But if sunscreen counts, I'd put that ahead of mascara. I'm fair-skinned and wear sunscreen on my face year-round.
Do you have any nicknames from friends and family? What are they?     My husband calls me "Shus." It started when we met in high school, and it has to do with all of my random (mostly running and soccer-related) foot and ankle problems, but I can't explain the weird spelling.
Why did you start your blog?     I started writing my first blog, Transmissions, in January 2007, not long after we learned that my little sister, Taylor, has Batten disease. I write to share our personal journey and fight but also to raise awareness of Batten and all rare diseases, which affect 30 million people in the United States and 350 million people worldwide. In March 2009, I retired Transmissions and launched Write the Happy Ending. I never took a break from writing; I just took a fork in the road, and my blog grew and changed over time as our journey progressed. Transmissions served as the official blog for Taylor's Tale, the non-profit organization founded in Taylor's honor, and Write the Happy Ending replaced it.
Shoes or purses?     Shoes – but running shoes and flip-flops, not trendy designer shoes. In fact, I hate buying regular shoes, because I have bad ankles, bunions and narrow heels, so shopping for cute shoes is usually a miserable experience for me. But I have a thing for buying running shoes. At any given time, I have no less than three pairs of top-end running shoes that I wear on a regular basis. And my sports medicine doctor cringes every time I come to an appointment in flip-flops, but I swear by them. The way I see it, they're better than heels! I love my Brooks Glycerin running shoes. They cost a pretty penny, but they keep my feet (mostly) happy!
Describe your perfect day from start to finish.     Sleeping till 8. No earlier, and no later. Going out for brunch, preferably stuffed French toast and fresh fruit. Going on a long run, i.e. eight miles or longer, under a perfect, blue sky. Reading a good book. Spending a laid-back evening at home with family and friends. Snuggling with my dog, Daisy, a forever-young Westie. I'm a pretty simple creature. I'd love to find myself in some amazing destination every day, but deep down, it really doesn't take that much to make me happy.
Who do you look to for style inspiration and advice?     My mom, hands down. She is beautiful on the inside and out. I still take her shopping with me for everything from clothes and shoes to furniture, and I look to her for inspiration and advice on a lot more than fashion and style.
What are you too afraid to pursue right now, whether in your dreams, work or relationships?     Having kids. I have my dreams figured out, and I'm not afraid to go after them; for me, it's just a matter of finding time for all of them. I've been married for seven years, and we want to have kids, but I want to be in a place where I know I won't have regrets or wish I'd done X, Y or Z before we went down that road. And when I have kids, I want to be right where they are.
Following are the 10 blogs I'm nominating for the Sunshine Award:
Here are the 10 questions I'm asking my nominees to answer:
If you could have one special power, what would it be?
If you could go anywhere in the world tomorrow, where would you go?
What did you want to be "when you grew up?"
What is your favorite song to run or exercise to?
Cake or pie? What kind?
What is something crazy or wild most of your friends don't know about you?
What keeps you up at night?
Who is your hero?
What's the first thing that comes to mind when you hear "rare disease?"
What do you want to be remembered for?
Thanks for reading! I hope you learned something interesting about me. Please check out some of my nominees' blogs!